We all sometimes need to delete some messages on iPhone. What if you accidentally deleted a message or a whole dialogue that you still need, for example for work or you adore reading old text messages or maybe your wife likes deleting text messages? Then there's a possibility to retrieve deleted text messages on iPhone. As you can see from the title, there are 3 ways of recovering messages: using iTunes, iCloud, and a 3-party app.
Each of them has its pluses and minuses and requires its own conditions, so in different situations, you need different solutions. That's why it is better to learn about each method to recover messages and then pick the one that is the best for you or even the one you can use at all.
So, let's start!

The Best 6 Methods to Recover Deleted Messages on iPhone
If there is a reason for deleting a text message on an iPhone your priority will be to recover the message from another device. In this session, you will find 6 ways to recover lost messages. Hopefully they'll send the message back to you for viewing.
Recover deleted text messages on iPhone with an iCloud backup
To recover messages with iCloud backup is quite simple. To get your messages back, you need to do a full restore. The only subtlety is that data recovery your phone state will turn back into the concrete time in the past, so not only deleted after that time data will appear again, but every piece of information you got after will disappear. It refers to your signs for apps, too.
Follow these steps for retrieving your messages:
Go to the Settings app, click on your name at the beginning of the list.
Find the iCloud button, pick iCloud Backup and see if your phone has been backed up lately.
After returning to the list of the main settings and choose the General option.
Click on Reset, after on Erase all Content and Settings and Erase now.
It will take some time to get back to factory conditions. Then the welcome screen will appear.
After you complete a few steps you asked to, you will see the Apps & Data screen, when getting there pick Restore from iCloud Backup from the list.
Log in to iCloud and pick a backup there. You need to pick the one that refers to the date before you removed your lost messages.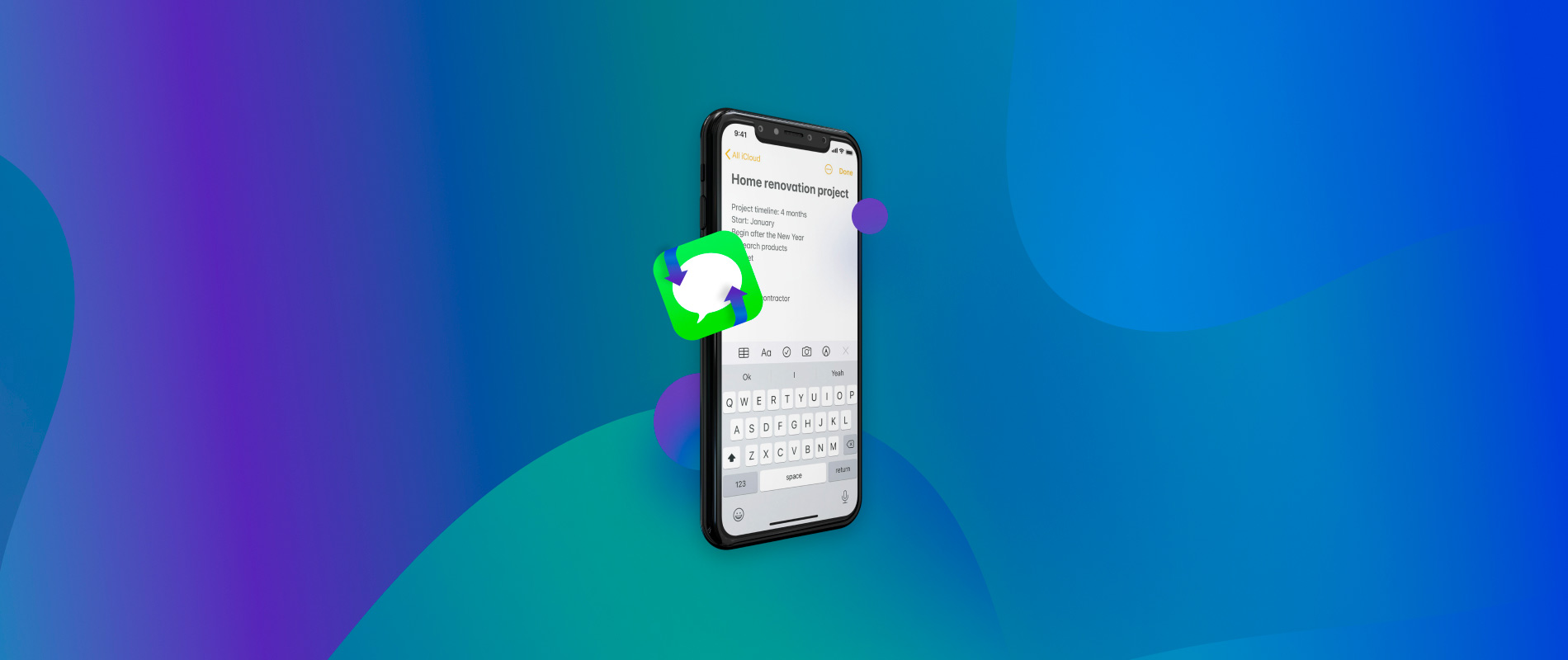 Restore Your iPhone from Finder (macOS Catalina or later) to Recover Deleted Messages
How do I recover deleted texts when I reinstall an iPhone Backup in Finder? If it is possible to restore lost data from a backup before sending a text message it will be recovered for you. Immediately follow these instructions, the device will return to the backup mode. If you'd like to restore deleted messages from iPhones using the Macintosh Mojave version, you may use these methods. Nonetheless, the process isn't working since the computer synchronizes with this PC.
Restore Messages From Recently Deleted
How to recover lost text messages from iPhones is the best solution available today. When an email message has been deleted from your iphone, it has to be immediately to show recently deleted, from your phone in your Message app. The difficulty is that only the iPhone running iOS16 is able access to the folder. Note: deleted texts are stored in the Recently deleted folder only for one period. After 30 days of deleting it, you will permanently delete it. This step will allow you to recover deleted emails from an Apple device in a newly deleted folder.
All is not lost! Here's how to retrieve deleted text messages on an iPhone
Many iPhone users are receiving texts in the first few months and have only received one message a week from the company. Sometimes it is not possible for us to keep them, so often we don't even consider deleting them. You may need to share some text messages with friends or colleagues containing important directions or passwords to get things going again. We might panic. Unfortunately, accidental deletion happens and it's therefore vital to have the ability to retrieve deleted SMS messages.
Contact your service provider
The most effective way to get messages back in the mail is to reach out directly to your carrier's website. "Sometimes it will happen to you and find that there's some backing up information about your messages. It's usually the first step we take to get started with forensic data recovery software". Contact your service provider for a list of your calls. Through the iPhone.
Recover deleted messages on iPhone with iTunes
In case a backup procedure was accomplished at the time before you removed the messages you want to to retrieve deleted messages, you have an opportunity to get your messages back with the help of iTunes.
Follow these steps to recover messages:
Attach your phone to a computer, go to iTunes unless the app opens up itself.
Press on the image of your phone which is in the upper part of the screen, pick Summary from the list of options.
Pay attention to the Backups menu. In case the Restore Backup function is deactivated and you can't press on the button, pick This computer option in order to a data copy goes to the computer, not to iCloud.
Now choose Restore Backup and wait until your messages get back on your iPhone.
Recover deleted text messages from iCloud account
Since iCloud allows backup messages, not every region and phone carrier, the following way of recovering messages is accessible not for everyone, too. However, if you can use it this way though, then you will recover your messages fast, convenient and you won't lose part of your messages on your iphone data.
Follow the steps:
Open iCloud.com, fill in fields for Apple ID and password.
Then you will see the list of apps. You need to choose the Messages app icon. Unfortunately, the absence of the Messages icon means that you haven't backed up the messages.
Find concrete messages that have to be retrieved.
Go to the Settings app on your phone, then press on your name at the top.
Choose the iCloud option.
Move the slider to the left to turn off the messages if necessary.
Pick Keep on my iPhone when you see the window with the question "What would you like to do with the previously synced iCloud data on your iPhone?".
Move the slider to the right to turn on the messages again.
Choose the Merge button. After a few minutes passed, the messages will get back on your phone.
Besides, for videos and other data, the mechanism is the same, you can restore a backup to retrieve deleted videos from iPhone.
Retrieve deleted text messages on iPhone with a third-party app
Using this method of message recovering you will be able to get back exceptionally the messages you need and you won't have to change the data on your phone. The mechanism of the method consists of the extraction of the necessary data recovering deleted text messages from an iCloud backup. As you get the data from iCloud, remember to check that it actually exists in your account before you buy a 3-party app. Almost all of the apps are commercial. However, paying once you get the app forever.
Here's the list of the apps:
Phone Rescue. The price is $49.99for 1 license, to get a family pack consisting of 5 licenses you need to pay $69.99. To search the data you need to recover you examine the backups. Then you pick the concrete messages to recover.
Enigma Recovery. The price is $59.99, while a pack of 3 costs $69.99. There's even a variant that allows you to download the app as many times as you want to, it costs $199.99. The feature of the app is the function of scanning messages which provides you with a demonstration of the data you choose from.
The minus is that you will need to download one more app for recovering your messages. However, Restore IOS is a free app.
Actually, sometimes you don't even need any apps, e.g. spotlight search can help you see deleted message if the messages haven't been deleted entirely. So, how to use spotlight search to find deleted messages? Just enter some phrase from the dialogue in the field. Then the message window will appear below.
Speaking of apps, if you communicate through apps such as the text now an app you can't recover messages. Text now-deleted messages disappear and permanently deleted.
By the way, if you lost the message icon and now you're considering how to get the message icon back on iPhone and to download another app in case of failure, then there's good news, you can't accidentally delete the messages app, so look for it in the menu attentively.
Recover deleted messages from your carrier 
Even if all of the mentioned ways tap recover them are not for you, there's a way out of the situation. Are you wondering "How to recover deleted imessages without backup and not paying?"? The fact is that phone carriers keep all the information on customers' calls and messages. To get access to your data you have to sign in to your account on the phone carrier website or make a call to the customer service line. Thus, it is possible to recover deleted imessages without backup.
Can I recover deleted text messages?
Tap the triple dot menu button located above the screen to view the message. Click the trash icon. Choose what conversations you wish to recover and click "Rescue".
Can you recover deleted texts on iPhone without backup?
So, if I want to recover recently deleted messages or a deleted SMS on iPhone without backing up, it will be easier to preview messages from iOS: Step 1. Install PhoneRecover for iPhone and run it.
How do I restore my text messages from iCloud?
You can use iCloud Backup on your laptop. In the welcome menu select "Backup & Restore", then click – Restore > "Restore iCloud backup". Log into the ICloud app. doctor. Download cloud backups. … Recover the message on a backup copy.
Can you see deleted messages on iPhone without iCloud?
Can we retrieve deleted SMS on iPhone without iTunes? iPod Touch also offers an alternative to backing up iPhones. How can one retrieve deleted texts and emails on an iPhone? Make sure the device is connected and then launch iTunes.
That is all! We hope this article was useful for you and it will be easy for you to recover all your recently deleted messages now. Good luck!